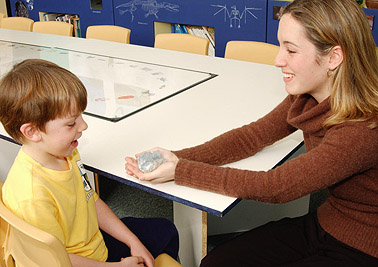 When my oldest son was 2 1/2 years old, my husband and I made a decision that we should have made 2 1/2 years before that. When our son was born we were very concerned about the cost of childcare, so to save ourselves money we chose an at home babysitter.
Unfortunately, that was a poor decision. After allowing our son to be in a bad situation for too many years, we decided we had to make a change. That change turned out to be one we have never regretted. Now our oldest is 8, and our youngest is 3 and also attends the ABC Center.
When our oldest started at the ABC Center, he was very quiet and shy; a year or so after he started at the center, one of the staff commented to me that she remembered his first day there and she could not believe how much he had changed – and boy was she right. He was no longer upset when we dropped him off to go to work. He had made friends that he still has. He was no longer shy and afraid.
Our youngest just recently started preschool at the center, and on his first day he came home singing his ABC's. He knows his colors and many other things that his brother missed out on by not being at the ABC Center.
Many of the boy's teachers have spent the last 4 1/2 years with us and I could not ask for them to take better care of my boys. Every morning that I leave them at the center, I leave knowing they are in wonderful hands, and that I do not need to worry about their care or well being.
As a parent, that is worth all the money in the world.
Melissa Sensmeier